Graduate Student
Research Emphasis
Systems biology of metabolic networks: iterative computational and experimental characterization of cells in normal and disease states.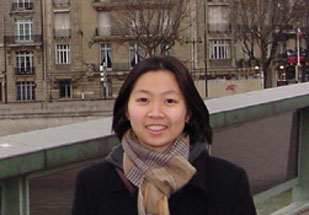 Biography
I'm a fourth year bioinformatic graduate student. I have reconstructed and characterized a metabolic model for the human cardiac mitochondria and core models for cardiomyocyte and hepatocyte. I have also developed an optimization-based framework to calculate reaction fluxes based on carbon tracer data (isotopomer data). Currently, I am carrying out 13C tracer experiments with normal and diseased fibroblasts to study cellular metabolic responses to changes in culture medium composition.
Education
2002-present
University of California, San Diego
PhD program in Bioinformatics
GPA: 3.91/4.0
1997-2001
University of California, Berkeley
BA Chemistry and Genetics
GPA: 3.7/4.0
Research Experience
Systems Biology Research Group, UCSD
Prof. Bernhard Palsson
Dept. of Bioengineering, UC Berkeley
Prof. Adam Arkin
Dept. of Pharmaceutical Chemistry, UCSF
Prof. R. Kip Guy
Dept. of Chemistry, UC Berkeley
Prof. David MacMillan
Dept. of Chemistry, UC Berkeley
Prof. Sung-Hua Kim
Teaching Experience
Instructor
Inha University, Korea
Workshop on Systems Biology
Teaching Assistant
University of California, San Diego
BENG 212. Systems Biology and Bioengineering II: Network Reconstruction
University of Calfifornia, Berkeley
Chem 4A: General Chemistry and Quantitative Analysis
Chem 5: Quantitative Chemical Analysis
Phillips Academy, Andover
General chemistry
Honors and Awards
Graduate Research and Education in Adaptive bio-Technology Training (GREAT) Fellowship (2005-2007)
San Diego Graduate Fellowship (2002-2004)
Bachelor of Arts Degree with High Honors
Glen Seaborg Award for Outstanding Undergraduate Research
Dept. of Energy Undergraduate Research Fellowship
Howard Hughes Undergraduate Research Fellowship
Publications
Articles
Vo, T.D., Lim, S.K., Lee, W.N.Pl, and Palsson, B.O, "Isotopomer analysis of cellular metabolism in tissue culture: A comparative study between the pathway and network-based methods," Metabolomics, accepted
Vo, T.D. and Palsson, B.O, Building the power house: Recent advances in mitochondrial studies through proteomics and systems biology, AJP Cell Physiology
Vo, T.D. and Palsson, B.O, http://www3.interscience.wiley.com/cgi-bin/fulltext/112735201/PDFSTART Isotopomer analysis of myocardial substrate metabolism: A systems biology approach"] Biotechnology and Bioengineering
Thiele, I., Vo.D., Price, N.D., and Palsson, B.O, "An Expanded Metabolic Reconstruction of Helicobacter pylori (iIT341 GSM/GPR): An in silico genome-scale characterization of single and double deletion mutants", Journal of Bacteriology, [187(16):] 5818-5830 (2005).
Thiele, I., Price, N.D., Vo, T.D., and Palsson, B.O, "Candidate metabolic network states in human mitochondria: Impact of diabetes, ischemia, and diet", Journal of Biological Chemistry (2004)
Vo, T.D., Greenberg, H.J., and Palsson, B.Ø., "Reconstruction and functional characterization of the human mitrochondrial metabolic network based on proteomic and biochemical data", Journal of Biological Chemistry (2004).
Reed, J.L., Vo, T.D., Schilling, C.H., and Palsson, B.Ø., "expanded genome-scale model of Escherichia coli K-12 (iJR904 GSM/GPR)", Genome Biology, 4(9): R54.1-R54.12 (2003).
Book chapter
Jamshidi, N., Vo, T.D., and Palsson, B.O, in silico analysis of SNPs and other high throughput data. Methods in Molecular Biology: Cardiac Gene Expression and Regulation. Totowa: Humana Press, Inc.
Conferences
Louisville Symposium on Environmental Metabolomics
Oral presentation
Louisville, KY, Nov 2005
UC Biotechnology Research and Education Program - GREAT Fellowship
Oral presentation
Laguna Beach, CA, Oct 2005
SACNAS: Society for Advancement of Chicanos and Native Americans in Science
Denver, CO, Sep 2005
An in silico mitochondrion: A tool for data integration and metabolic flux analysis
Poster presentation at PharmaDiscovery
Washington, DC, May 2005
Thuy D. Vo, Ines Thiele, Nathan D. Price, and Bernhard O. Palsson
Metabolic Flux Analysis in Mitochondria
Poster at Gordon Research Conference: Oxidative Stress and Diseases
Ventura, CA, Mar 2005
Thuy D. Vo, Ines Thiele, Nathan D. Price, and Bernhard O. Palsson
Metabolic Flux Analysis in Mitochondria
Poster at 49th Annual Meeting of the Biophysical Society
Long Beach, CA, Feb 2005
Thuy D. Vo, Ines Thiele, Nathan D. Price, and Bernhard O. Palsson
Towards an in silico Mitochondrion
Talk at Southern California Biomedical Engineering Student Symposium Los Angeles, CA, Jan 2005
Thuy D. Vo and Bernhard O. Palsson
Contact Information
Email Address: tvo@bioeng.ucsd.edu
Phone: (858)822-1144
Mailing Address: 9500 Gilman Drive Mail Code 0412 La Jolla, CA 92093-0412