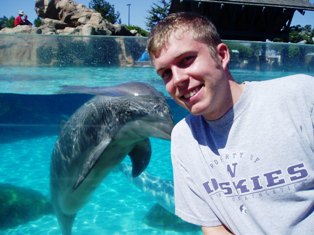 Researcher
I am a fifth-year Bioengineering graduate student in the Palsson lab. My research is focused on metabolic engineering of E. coli to produce amino acids and other chemicals, and updating our genome scale E. coli reconstruction by filling in gaps using computational and experimental methods. I graduated from the University of Washington with a B.S. in Bioengineering in 2006.
Systems biology research accomplishments:
Expanded and updated a widely used genome-scale metabolic reconstruction of Escherichia coli. Performed extensive manual curation to add and correct hundreds of genes and reactions. Prepared datasets and computational tools for performing gap-filling and model-based discovery of new gene functions.
Developed and improved constraint-based analysis methods for metabolic networks. Made significant contributions to COBRA (Constraint-Based Reconstruction and Analysis) Toolbox 2.0.
Metabolic engineering research accomplishments:
Used constraint-based model of E. coli metabolism to design growth-coupled production strains for industrially relevant target compounds from diverse feedstock compounds.
Constructed computationally-predicted E. coli gene knockout strains for the production of lactic acid, 1,2-propanediol, and L-alanine, and used laboratory adaptive evolution to optimize production phenotypes.
Analysis of the production characteristics of metabolic engineering strains is underway. The lactic acid production strain has achieved a yield of nearly 100% from glucose.
Contact Information
Email Address: jorth at ucsd.edu
Phone: (858) 822 1144
Mailing Address: 9500 Gilman Drive Mail Code 0412 La Jolla, CA 92093-0412